On Borrowed Time – About the author – Gill Heritage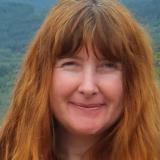 Gill Heritage, author
of On Borrowed Time
Gill Heritage is the author of the novel On Borrowed Time
The author, being only five feet tall, fully expects to shrink to little old lady size in due course. In the meantime she potters in her garden, helps design and build websites and wrestles ineffectually with any technology which crosses her path.
On Borrowed Time is the author's first novel, although she has written plenty of other things including short stories and poems, most of which are unfit for publication.
She used to live near to the biscuit factory and was tortured on a regular basis by the aroma of jaffa cakes whilst passing by on the bus. She now lives in the wilds of West Yorkshire.